1xBet Betting Company accepts bet on TOTO-football in accordance with Rules. TOTO totalizator – is the special pool game where you need to place bets on 14 events in the Match List.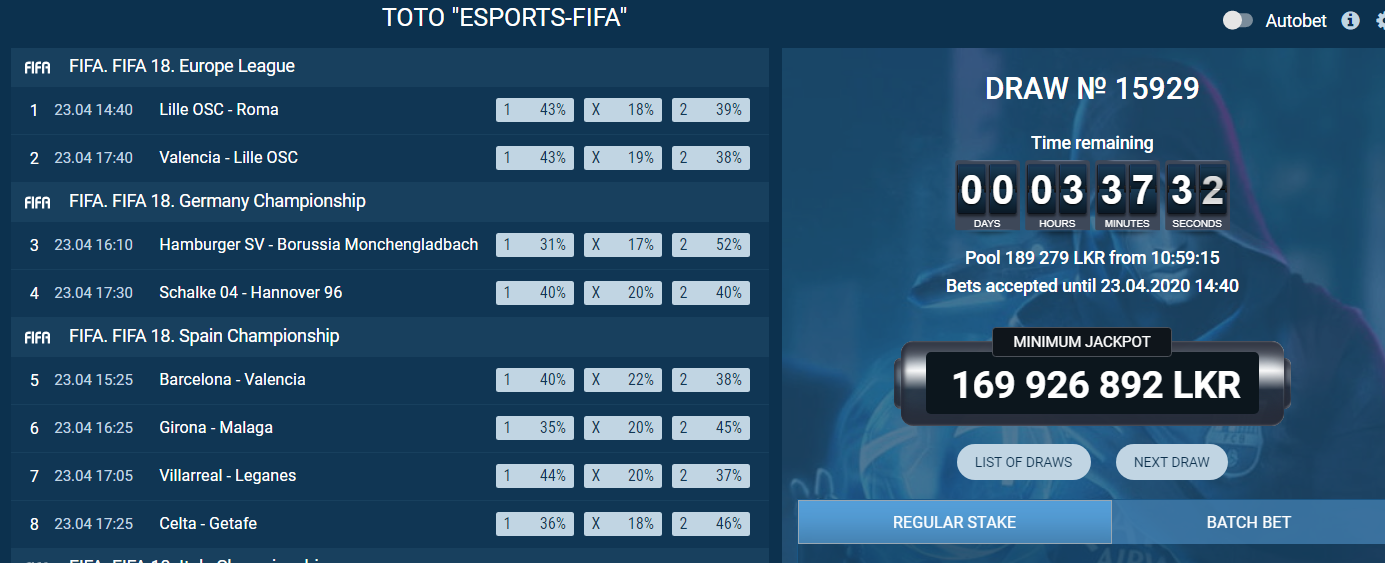 Each match can have 3 outcomes: The bet "Home wins" is designated as "1"; the bet "Away wins" is designated as "2"; the bet "Draw" is designated as "X". TOTO-football bet is a combination of event outcomes (one for each match of the coming Toto) on which a contestant bets; and also the amount of this sum of money. A bettor can choose from one to three possible outcomes in each match, besides each bet is paid out and settled separately. By placing a bet total number of bets (variants) and total amount is shown. Bet amount on each of variants is settled by dividing the total amount bet on the number of variants.The minimum stake on toto is 0.5€.  All toto bets can be checked in the section Totalizator – TOTO-Football – Bet slip list.

You can see the result on each event in toto bet slip after all matches will be completed. Bets on football matches are accepted on regular time (including additional time) except such bets as "To qualify" or "Winner", where bets are accepted on outcome of two teams showdown. The additional time of the first half-time is the 45th minute. The additional time of the second half-time is the 90th minute. If a match is abandoned before 90 mins are played or postponed all bets on that match are void, except for those markets which have been unconditionally determined.

A match is considered void if it was interrupted/postponed/delayed or if it started earlier than the closing time for bets of the current Toto Game. All outcomes of a match incomplete are considered successful.
If there are 4 or more matches incomplete, then this drawing betting is considered invalid and all bets are returnable with the odds are equal to be "1".